Palm Aire Country Club, Sarasota Florida
Your search for an affordable residence within a golf country club environment has ended here. Situated conveniently between Bradenton and Sarasota is the Palm Aire Country Club. Member owned, this country club can be found on the University Parkway in Sarasota Florida just west of interstate 75. This stellar, 1,300 acre country club community features 2, 18 hole golf courses, 10 tennis courts, an athletic center, and a junior Olympic size swimming pool.
Its prime location means convenience to everything and the elimination of lengthy commutes as Palm Aire is only 2 miles from US 301 in the east and Interstate 75 in the west. This not only places the golf community a short distance from the centers for commerce, fine arts, Florida and Sarasota culture, venues for entertainment and sports, but also within easy reach of the pristine beaches and luxurious resorts at Siesta, Lido, and Longboat Keys.
The centerpiece of Palm Aire has to be the tastefully designed, 23,000 square foot clubhouse that provides the finest of social amenities to its esteemed members. Fine dining with world class cuisine is presented by an acclaimed chef and dining staff along with a sumptuous cocktail lounge with wide screen tv's. The expansive banquet hall provides the venue for gatherings such as weddings and other formal occasions.
The Athletic Club at Palm Aire features a number of physical activity options. The latest in sports equipment and facilities are provided and are tailored to the skills and abilities of the members. Available for play are 8 Har-Tru tennis courts and 2 with all weather surfaces. Six of the courts are illuminated for night play and there are pro instructors on hand for individuals or groups needing to refine their games.
Likewise offered at the country club's air conditioned fitness center are supervised workouts conducted by a professional health and fitness trainer. It boasts modern exercise machines and immaculate and secured locker rooms. Water based exercise is afforded by a junior-sized Olympic swimming pool featuring invigorating, professional water aerobics classes.
Palm Aire Golf Course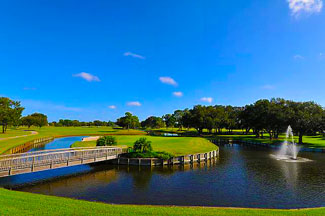 Unparalleled playing conditions along with golf history are interwoven at Palm Aire Country Club. Consisting of 2 exceptional 18 hole, par 72 layouts, the Champions and the Lakes courses have both seen impressive renovations recently and have been cited by Golf Week magazine as some of Florida's finest courses. The All Star Golf tournament, held in 1959 and won by the famous golfer, Sam Snead, was the first ever televised golf event and is among several memorable moments in golf recorded at these courses.
Famed course architect, Joseph L. Lee, designed the stunning Palm Aire Lakes that measures 6,685 yards from the remotest tees. This course, displaying Lee's penchant for challenging designs, features a 72.1 course rating and a 130 slope rating. At 7,005 yards, the Champions is a longer course and is a veritable masterpiece designed by Dick Wilson, another architect lauded for his demanding layouts. Liberal practice facilities, that includes a 24 slot driving range, blends well with the other numerous golf amenities.
Palm Aire Country Club Real Estate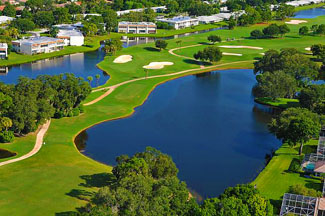 You will experience many available options within the Palm Aire Country Club real estate development that bridges various lifestyle and price point choices. Price levels for an unfurnished condominium with floor plan of around 1,139 square feet are in the $110,000 range. An upscale Palm Aire real estate choice could be a spacious villa with 2,100 square feet of living space and commanding a price near $350,000. On the opulent side, 3 to 4 bedroom Palm Aire homes for sale with over 2,500 square feet can be bought ranging from around $450,000 to close to $700,000.
As Palm Aire is an older golf community development where the homes, villas and condos gently reflect the era in which they were built, many owners have performed extensive upgrades to their properties with many of the homes now featuring luxurious Italian tile baths, counter tops of solid granite, and rich hardwood cabinetry. The HOA fees are a bit high if compared with other clubs in the immediate area, but the upside is construction standards of that era that will more than offset the higher cost.
---
Palm Aire Country Club Homes for Sale
Below are the current real estate listings available at the Palm Aire Country Club.
Please contact me if you would like to schedule a tour of any of the listed properties.