Pelican Pointe Golf and Country Club Real Estate, Venice, Florida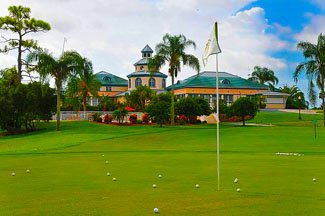 Pelican Pointe is a golf community in Venice, Florida, composed of several neighborhoods, namely, Pelican Pointe 1 and 2, Sanctuary, Links, Villas, and Arbors. These subdivisions were masterfully developed within the gated complex of the 1,000-acre Pelican Pointe Golf and Country Club located just off Center Road, a thoroughfare strategic for Venice real estate for sale.
The Pelican Pointe property is among Venice golf communities where there can be varied choices of residences. There are 1,355 villas and home sites in this community where the majority of the homes have wonderful views of the golf course, particularly its serene lakes, lush greens and well-manicured fairways.
Ownership of a residence in the community is bundled with a social membership to the country club and thus provides access to a rich collection of amenities. Foremost among these is the Pelican Pointe clubhouse which has a first-class restaurant, the Grille. Additionally, the club has a modern fitness center, two tennis courts with Har-Tru surface and a junior Olympic-sized pool.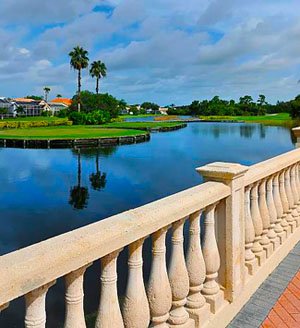 The club's golf course truly merits being a centerpiece to the Pelican Pointe community. The links come in a 27-hole design crafted by the noted course architect, Ted McAnlis, in three magnificent layouts: the Preserve and the Meadows which opened in 1995, and the Bobcat which was inaugurated in 2002. From this trio, golfers can choose the layout combination which suit their skill or level of play. Because of their consistent fine playing conditions, these links have emerged tops among "Readers Choice" surveys during the past ten years.
In similar polls for Venice residential communities, the Pelican Pointe neighborhoods have likewise come out as "Best of the Best." Much of the credit for such an accolade goes to the noted Florida home builder, Sam Rodgers, the genius behind the development and construction of the residences in the community.
Pelican Pointe homes for sale immediately draw buyer attention for their unique and appealing architectural styles and varying floor plans. Listings of properties available in the community can include residences with floor areas of between 1,150 square feet and 2,800 square feet. A sales-listed residence with 1,165 square feet of floor space, two-bedrooms and two baths can have an asking price near $190,000 level. The price point rises to the high $500s for those 2,800-square-foot homes with three bedrooms and three baths.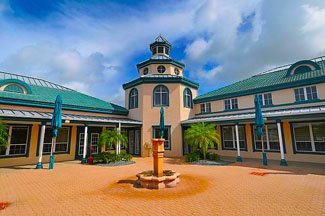 These options can indeed shine in an inventory of Venice real estate properties. Besides its many merits as a golf community, Pelican Pointe enjoys close proximity to downtown and uptown places for shopping, dining, and entertainment. A short drive eastward of the community's Center Road location, for instance, leads to the nearby Venice Pines Plaza. Similarly, a few minutes' trip to the west along the Tamiami Trail can open access not only to shops, restaurants and boutiques but also to the Gulf Coast beaches that likewise provide allure for most of the homes for sale in Venice.
---
Pelican Pointe Real Estate for Sale
Below are all of the current real estate listings available for sale at Pelican Pointe.
Please contact us if you would like to schedule a tour of any of the listed properties.