The Hamptons – Palmer Ranch – Sarasota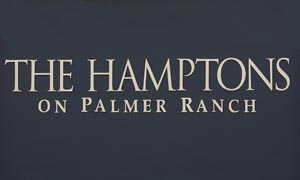 The Hamptons on Palmer Ranch is an idyllic suburban community composed of three separate subdivisions that share the same superior construction. The Hamptons real estate for sale includes a choice of houses that range from 1700 to 3200 square feet of finely manicured prime property that's set against lush tropical foliage. It would not be a surprise to catch sightings of deer, sandhill cranes, otters, and other wildlife in the woodlands and lakes that surround the community.
The Hamptons homes for sale have a price tag between the high $200s and the low $500s. Even though the subdivisions are distinct from one another, nevertheless, they share the same Palmer Ranch real estate excellence and characteristics. Each of The homes for sale in the Hamptons of Palmer Ranch has paver driveways and durable Florida barrel tile roofs, and many of the residents enjoy scenic lakefront or nature preserve views.
The non gated North Hamptons subdivision is ideal for its low HOA fees. The residents maintain their own landscaping and benefit from a warm and friendly atmosphere.
The West Hamptons homes for sale are generally larger and, therefore, the most costly among the three subdivisions. All homes have a screened lanai and a private pool, which is perfect for those hot summer days.
The South Hamptons have may have slightly higher HOA fees, but this includes exterior and lawn maintenance. The homes here are perfect for seasonal residents or those who need a secondary home with a warm climate and excellent surroundings and do not want to worry about the exterior while they are away.
This Palmer Ranch real estate development is valued because listings for The Hamptons homes for sale are infrequent. This means that the community has a high rate of long term and satisfied residents. It's not surprising though, considering the homes' sturdy architecture and aesthetics, and the neighborhood's excellent location and Palmer Ranch address.
One of Sarasota's many attractions, aside from the wonderful climate, is the world renowned beaches of Siesta Key. The 8-mile sandy strip has been found to be 99% quartz and, therefore, cool to the touch. It is heaven enough just to feel the sand between your toes. In addition, the Gulf of Mexico offers a spectacular sunset that residents of this southwestern coast enjoy every day.
Other Sarasota activities that are within easy reach for residents of The Hamptons are golf and water pursuits. Sarasota has a number of golf courses, and Palmer Ranch has two of the best: the Tournament Players Club at Prestancia and Stoneybrook Golf and Country Club.
---
The Hamptons on Palmer Ranch Real Estate
Below are all the real estate listings currently for sale in The Hamptons on Palmer Ranch.
Please contact me if you would like to schedule a tour of any of the listed properties.