Sarasota Bay Real Estate · 2033 Main Street, Suite 501 · Sarasota Florida · 34237
---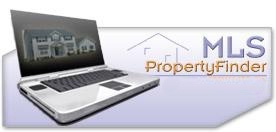 Your search for Sarasota real estate just got a lot easier. This website contains all of the current MLS listings of the real estate for sale in Sarasota, Manatee, and Charlotte County, Florida. If the MLS listed property is priced over $60,000 and was for sale within the last hour, you will find it here. Many of of the higher-priced listings you will encounter on this website are also enhanced with multiple high resolution photos. This is a feature that is unique in our market and only found on our company websites.
Real Estate Search tools included on this website
There is no registration required to use this website
---
However, by creating an OPTIONAL Property Finder Account, and saving any of your searches, you will have the ability to have new real estate listings emailed to you that meet your search criteria the day they are added to the Sarasota MLS. We promote this service for one simple reason, of all the feedback we have received from previous customers about this website, the number one feature appreciated the most has been the Property Finder service and how effective it is at finding the best properties and the best deals with the least amount of effort.
At Sarasota Bay Real Estate, your privacy is important to us! As explained in the video above, we do not use information collected in Property Finder Accounts for marketing purposes, if you create an account on this website you will not be contacted. The only information you will ever receive from us is information you have requested and the notification email that will be sent when a new property has been added to the MLS that meets your saved criteria, or when one of your saved properties have had a price reduction. If you are interested in discovering how effective this service can be and making your search process easier, you can create a Property Finder Account by clicking the link below.
---
Sarasota Real Estate Diversity
The real estate for sale in Sarasota falls into distinct lifestyle categories; Golf communities, downtown high-rise condos, luxury waterfront real estate, beach-side condos and gated communities. In addition to these main property categories, our region offers such a diversity of real estate, many other possibilities exist.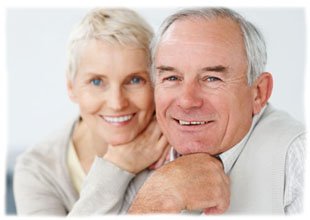 The Siesta Key homes for sale and Siesta Key condos for sale categories in the drop-down above will certainly inspire those looking for real estate located along the shores of America's number one rated beach. If spending time at the beach is important to you, these are two of four main categories you need to focus on.
For the more affluent of home buyers searching for Sarasota waterfront real estate, the real estate for sale on Lido Key, and Longboat Key will certainly inspire you. There you will find some of Sarasota, Florida's most palatial residences built by Sarasota's best home and condo builders that are located either on the beach or with boating access to the rear of the property. Other major affluent ares worth investigating are Bird Key and St. Armands Key
Within Sarasota there are more than 35 miles of coastline and literally thousands of waterfront homes that provide boaters with access to Sarasota Bay and the Gulf of Mexico. So if a water-based lifestyle appeals to you, you are certainly going to enjoy living here!
Sarasota Bay Real Estate in the news!
May 2nd 2014 – Sarasota Bay Real Estate has been selected for the 2013 Florida Excellence Award amongst all its peers and competitors by the US Trade & Commerce Institute (USTCRI).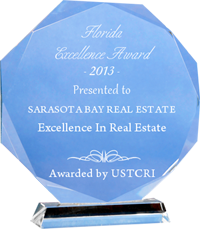 Each year the USTCRI conducts business surveys and industry research to identify companies that have achieved demonstrable success in their local business environment and industry category. They are recognized as having enhanced the commitment and contribution of small businesses through service to their customers and community. Small businesses of this caliber enhance the consumer driven stature that Florida is renowned for.
Sarasota Bay Real Estate has consistently demonstrated a high regard for upholding business ethics and company values. This recognition by USTCRI marks a significant achievement as an emerging leader within various competitors and is setting benchmarks that the industry should follow.
As part of the industry research and business surveys, various sources of information were gathered and analyzed to choose the selected companies in each category. This research is part of an exhaustive process that encapsulates a year long immersion in the business climate of Florida.